Extractions
---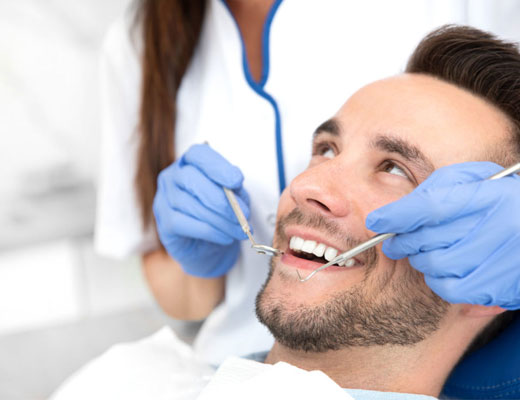 You or a family member could require tooth extraction in Lyndhurst, OH for a variety of reasons. Perhaps you experienced trauma to the mouth and had a tooth only partially knocked out. In this case, you will need to have your dentist extract the remaining portion of the tooth.
Other scenarios when you might need teeth extracted include:
Infected or dead tooth
Removal of wisdom tooth
Severe tooth decay
To make room for other teeth to shift during orthodontic treatment
Whatever your reason for needing a tooth extracted, you may feel anxious and have a lot of questions. We recommend scheduling a consultation at Lyndhurst Family Dentistry to learn more about the procedure.
The initial appointment also gives us an opportunity to determine if tooth extraction is the best course of action in your case. We will go through your general and oral health histories at this appointment as well.
Simple Tooth Extraction
The location of your tooth, the reason you need it extracted, and whether an impaction has occurred all help to determine whether your dentist performs a simple or surgical extraction.
When you have a simple extraction, you receive local anesthesia in the area surrounding your tooth. The anesthesia numbs the area to ensure you're not uncomfortable while your dentist completes the extraction.
After ensuring that you feel comfortable in the dental chair and that the local anesthesia has kicked in, your dentist uses a piece of equipment known as a dental elevator to loosen your tooth in its socket. This may require moving the equipment back and forth more than a dozen times to ensure that your tooth has become loose enough to be removed with dental forceps.
Surgical Tooth Extraction
When a simple tooth extraction isn't possible for whatever reason, your dentist provides you with local anesthesia and intravenous anesthesia. These medications come in the form of an injection and an IV delivering medication through a vein in your arm. Should you also require general anesthesia, you will remain unconscious until your dentist completes the tooth extraction.
Your dentist will need to create a small incision in your gums to start the surgical tooth extraction procedure. This may require you receiving a few stitches as a result.
Tooth Extraction Risks and Recovery Period
As with any invasive procedure, you should understand potential risks associated with tooth extraction. Although rare, these include:
Bleeding that doesn't stop for over 12 hours
Chest Pain
Nausea and/or vomiting
Persistent coughing
Redness and swelling at the site of the extraction
Shortness of breath
Please don't hesitate to seek medical attention if you notice any of these symptoms.
Most people experience no complications after a tooth extraction. You can speed up your recovery by applying ice to your cheek for 10 minutes every hour, taking non-prescription pain relievers, and eating a soft food diet. The team at Lyndhurst Family Dental will provide you with complete aftercare instructions at your extraction appointment or consultation.
Sources:
clevelandclinic.org